Our Chairman's views on U.S., China equities and gold
09-03-2020
Hong Kong Economic Times today published a front-page story featuring Value Partners' house view amid the coronavirus outbreak. Our Co-Chairman and Co-Chief Investment Officer Dato' Seri Cheah Cheng Hye said in an exclusive interview with the local paper that global capital is quietly but firmly flowing into Asia and emerging markets and exiting the expensive U.S. assets. Additionally, Mr. Cheah shared his personal investment in gold ETF.
While the most severe phase of the outbreak on the mainland may have passed, the situation beyond China's borders is now of concern. Jittery over the viral spread caused the U.S. stock market correction over the past week but did not sufficiently bring down their expensive valuations. Furthermore, the unexpected emergency rate cut by the Federal Reserve last week also infused worries. Mr. Cheah expects U.S. equities to fall another 5-10%. The U.S. presidential election in November is possibly to widen broad market volatility.
Other regions did not rally as much as the ten-year bull cycle of the U.S. market. Asia's current price level is quite resilient, said Mr. Cheah, confirming his conviction in China and Hong Kong equities.
"At present, China-related companies account for around 70% of Hong Kong's stock market value, meaning that the majority of the listings is closely linked to China's development and growth," he explained, adding in the interview that some U.S.-listed mainland corporates may follow Chinese e-commerce giant Alibaba to delist from U.S. stock exchanges and relist on Hong Kong bourse.
He continues: "I am confident in the prospect of Hong Kong's financial markets, which does not equate to an optimism about the city's domestic economy. The grounds for my conviction is largely due to a bright outlook and continual development of China's financial markets.
Medical and pharmaceutical, technology and education are among the sectors that are in our favor. Plus, tourism and consumer-related stocks have fallen to attractive levels.
"I am maximum bullish on gold"
Mr. Cheah exhibited his bullish view with his personal investment of USD 2 million in gold ETF. While all gold-related indicators are pointing to a bull cycle now given the virus outbreak, gold price may rally to a new high for five reasons:
Worrying virus spread propels global central banks to trim rates. Gold stands out with its ability to preserve value
Unlike banknotes that can in theory be printed endlessly, gold carries precious scarcity.
Other than Japanese yen and U.S. debt, gold serves as a preferred hedging tool, lifting demand for gold-related investment instruments
Gold typically has an inverse relationship to the greenback. Softened U.S. dollar favorably supports bullion prices
Gold supply is limited. It is believed that most of the gold on earth is mined out so it is unlikely to see new gold supply in large scale.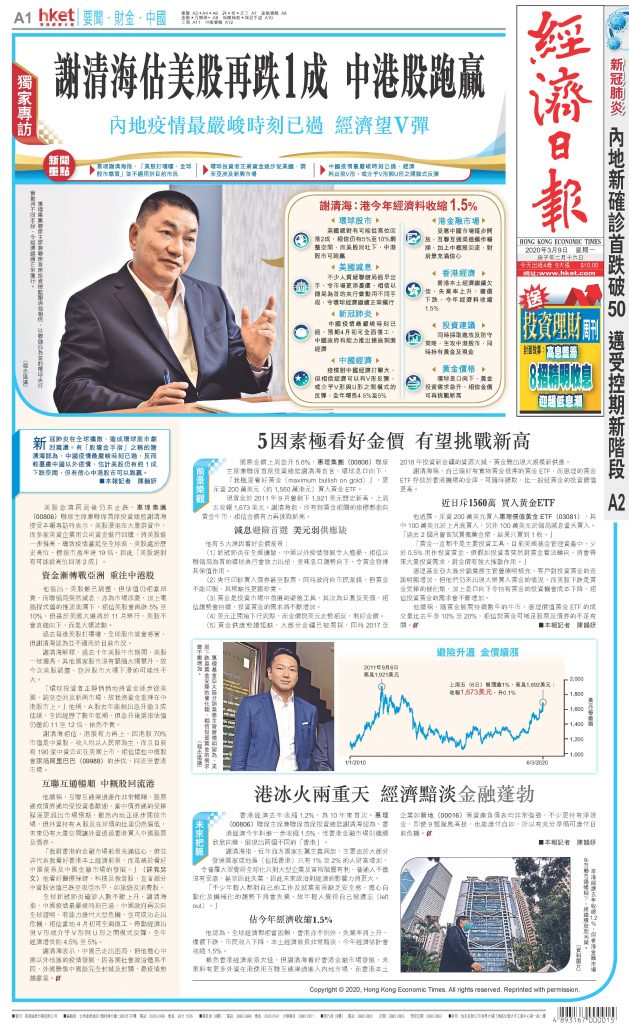 The views expressed are the views of Value Partners Hong Kong Limited only and are subject to change based on market and other conditions. The information provided does not constitute investment advice and it should not be relied on as such. All materials have been obtained from sources believed to be reliable, but its accuracy is not guaranteed. This material contains certain statements that may be deemed forward-looking statements. Please note that any such statements are not guarantees of any future performance and actual results or developments may differ materially from those projected.