Keeping faith in the China growth story
04-01-2019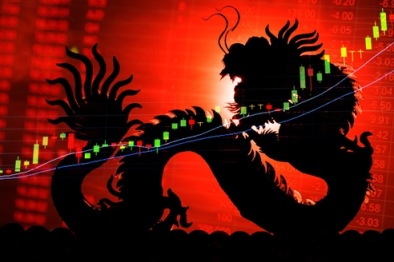 With a volatile 2018 that proved to be difficult to navigate now firmly behind us, the biggest question market participants are asking is whether 2019 is going to be better. While a lot of the focus will be on how the US-China trade saga will be impacting the latter's short-term economic growth, it is also important to remember that the country's long-term growth story remains very much intact.
It probably requires little explaining by now that trade relations between the US and China has been deteriorating since the middle of 2018 and led to a number of high-profile "tariff exchanges". The squabble between the world's two largest economies shook markets globally, with Chinese equities, in particular, feeling the full brunt of the dispute.
In 2018, the asset class' three major indices were all down significantly1, with the Hong Kong Hang Seng Index, Shanghai Stock Exchange Composite Index and Shenzhen Stock Exchange Composite Index losing 13.6%, 24.6% and 33.3%, respectively.
The primary reason for the asset class' less than stellar performance was due to deepening concerns over the potential negative impact the US tariffs on Chinese exports are going to have on China. The Official National Bureau of Statistics PMI Index fell to 49.42 in December, which was the first contraction since the second half of 2016 and does not bode well for the country's short-term outlook.
While the US and China have agreed to a 90-day truce3 following the G20 summit in Buenos Aires, it remains to be seen just how will the situation play out given the fundamental differences between their trade policies and beliefs. The latest market chatter reveals that China will be eliminating a 25% surcharge slapped onto US-made vehicles, which suggests that things are moving in the right direction.
However, the arrest of a leading Chinese technology company's senior official in Canada has added an extra layer of complexity to the situation, with the US looking to extradite the person over alleged sanctions violations. While the Chinese executive has since been released on bail, this latest episode has created an uproar in China and goes to show that volatility is likely to remain in spite of the trade truce.
China PMI: Tough times ahead?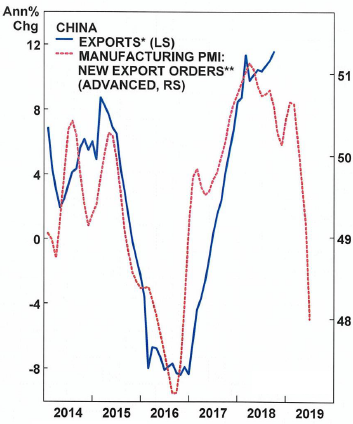 *In US Dollar terms
**Shown advanced by 9 months.
Source: BCA Research and the National Bureau of Statistics of China, 2018
From goods to services
But even if we consider the worst case scenario and assume the US tariffs on Chinese exports will go ahead, we have explained in our past commentaries that any impact is likely to be insignificant. The prevailing negativity seems to have somewhat overlooked China's transformation from a manufacturing powerhouse to a consumption-based economy that will be largely driven by domestic sources rather than exports.
China has seen a dramatic increase in the domestic demand for goods and services in recent years. This search for a better quality of life has grown in conjunction with the increasingly affluent as well as savvy Chinese consumer base.
China's consumption-driven growth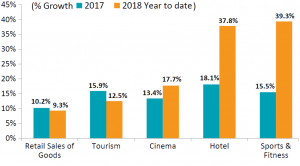 Source: Morgan Stanley Research, 2018
It is further amplified by China's large millennial population – those who reached adulthood in the 21st century. China boasts the world's second largest population of millennials (418 million4), which translates to 17.8% of the world's total. Such a huge population of young spenders also points to the sheer potential of China's consumption-driven model.
Consequently, these factors have combined to create one of the largest domestic retail markets in the world. Just how big is it? Online retail giant Alibaba, for example, experienced a record US$30.8 billion of Singles' Day sales this year5, which is not only a 27% jump over 2017, but also higher than what most countries are able to sell online in a single year.
China's growing technological prowess
Another critical sign of why China should no longer be simply viewed as an exports-driven nation is its increasing prominence as a technology and innovation leader.
The aforementioned robust demand for goods and services, coupled with the world's largest internet population, has created an ideal breed ground for new technologies to prosper in China. This includes the growth of emerging technologies within the country such as fintech, augmented reality, virtual reality and sharing economy platforms.
China's rise as an intellectual hub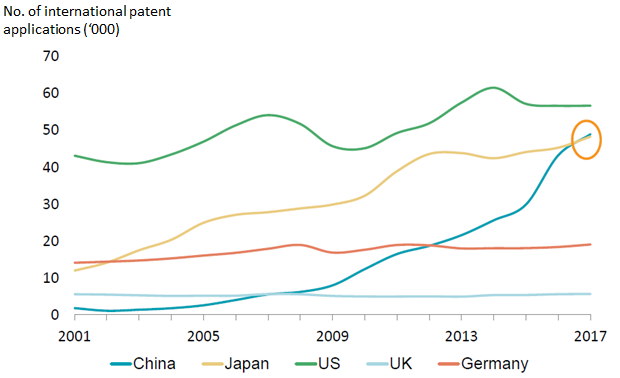 Source: World Intellectual Property Organization, 2018
Additionally, China is taking advantage of its growing technology and innovation expertise by looking outward to expand their original ideas into new markets. The number of international patent applications made by Chinese entities has surged tremendously in recent years and has already surpassed Japan to take second place in the global rankings6, according to the World Intellectual Property Organization.
It is important to recognise just how far China has come ever since it started opening up its economy in the 1980s and the pace of its development has been nothing short of staggering. It is currently in the midst of another major shakeup – one that will see it transit from a dominant player in the global supply chain into a dominant player in the global demand chain. While legitimate questions are being asked of its short-term outlook as a result of the ongoing trade dispute with the US, the country's long-term growth story remains promising and attractive.
1. Source: Bloomberg, Data accessed on 3 January 2019
2. Source: National Bureau of Statistics of China, 3 January 2019
3. Source: The White House, US, 1 December 2018
4. Source: UN World Population Prospects 2017
5. Source: Alibaba, 11 November 2018
6. Source: World Intellectual Property Organization, 2018
The views expressed are the views of Value Partners Limited only and are subject to change based on market and other conditions. The information provided does not constitute investment advice and it should not be relied on as such. All materials have been obtained from sources believed to be reliable as of the date of presentation, but their accuracy is not guaranteed. This material contains certain statements that may be deemed forward-looking statements. Please note that any such statements are not guarantees of any future performance and actual results or developments may differ materially from those projected.