What to make of Trump's latest tariff threats?
08-05-2019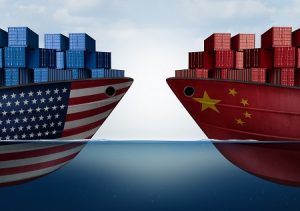 Stock markets around the world descended into a state of panic this week after Sino-US trade talks took a turn for the worst.
Hopes of the two sides striking an agreement anytime soon to end a convoluted trade war that has dragged out for the past year quickly faded after U.S. president Donald Trump issued a fresh round of tariff threats on Monday. Trump indicated that he will lift the 10% tariff rate that's currently imposed on US$200 billion of Chinese imports to 25% on Friday as U.S. officials accused China of reneging on its promises. In response, China has threatened to back out of much anticipated trade talks that are scheduled for Friday.
Trump's remark on Twitter is essentially the first canon that's been fired after the US and China agreed to a truce last December. The truce and several rounds of trade talks over the past few months have helped to set a buoyant mood in stock markets on both sides of the Pacific as investors anticipated the inking of an agreement as soon as this Friday. The Shanghai Shenzhen Composite Index rallied more than 40% in the first quarter of this year, while the S&P500 Index ratcheted up yet another new high.
As the mood on stock markets swiftly soured on Monday, investors and analysts were left scrambling to figure out what to make of Trump's latest move. Some have been quick to slash what they perceive to be the probability of a deal being struck on Friday, while others interpret the latest turn of events as a negotiation tactic or political maneuvering by Trump.
We believe it's more likely to be the former: a negotiation tactic similar to what Trump has employed in the past. The surprise new tariff threats came just days before a large delegation of Chinese officials led by Chinese Vice Premier Liu He is due to arrive in Washington. While China has threatened to walk away from the 11th round of trade talks that are supposed to happen on Friday, it is so far sticking to its itinerary. Vice Premier Liu He confirmed on Tuesday that he and his delegation will be traveling to the US on Thursday to continue trade negotiations.
While it remains to be seen if Trump will live up to his threats or how the 11th round of talks will play out, we believe there are some potential implications that investors should keep in mind. If Trump proceeds to levy a 25% tariff on all Chinese imports – and not just the US$200 billion that already carries a tariff – then the potential impact on 2019 Chinese GDP growth could be a decline of up to 0.8 percentage points. This could spur China to further review its economic support policy. The probability of a full-blown trade war, however, still remains low as the impact on both the US and Chinese economies will be significant.
Portfolio-wise, certain sectors tend to be more exposed to global trade and growth than others. These include technology, transportation, commodities and energy. Brokers may also be pressured by weak stock markets. On the other hand, we see domestically driven sectors such as consumption and healthcare as being more insulated from the global trade environment.
The views expressed are the views of Value Partners Hong Kong Limited only and are subject to change based on market and other conditions. The information provided does not constitute investment advice and it should not be relied on as such. All materials have been obtained from sources believed to be reliable as of the date of presentation, but their accuracy is not guaranteed. This material contains certain statements that may be deemed forward-looking statements. Please note that any such statements are not guarantees of any future performance and actual results or developments may differ materially from those projected.
Investors should note that investment involves risk. The price of units may go down as well as up and past performance is not indicative of future results. Investors should read the explanatory memorandum for details and risk factors in particular those associated with investment in emerging markets. Investors should seek advice from a financial adviser before making any investment. In the event that you choose not to do so, you should consider whether the investment selected is suitable for you.
This commentary has not been reviewed by the Securities and Futures Commission of Hong Kong. Issuer: Value Partners Hong Kong Limited.