Multi-Asset Perspective – February 2022
22-02-2022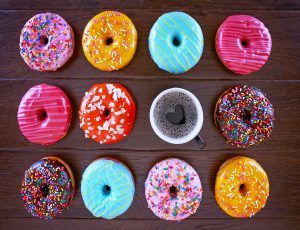 Investors are rotating from growth to value on the back of the faster-than-expected tightening by the US Fed.
In China, the government has gradually rollout both fiscal and monetary stimulus to support the economy.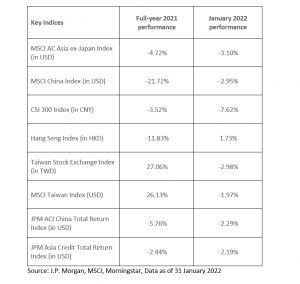 China / Hong Kong Equities
The US market remains volatile as the market is pricing in the potentially most hawkish stance from the Fed. Together with the surging Omicron cases in Hong Kong, resulting in very strict social restrictions, sentiment remains weak in the near term.
On the other hand, China has begun a gradual easing to support the economy,with more measures are expected to be released. Attractive valuations will support Hong Kong-listed Chinese stocks.
China A-Shares
With investors globally rotating from growth to value stocks given the higher cost of capital, high valuation sectors in China A-shares also corrected. Analysts also continue to downgrade corporate earnings for this year as the economy is expected to further moderate.
China has started to gradually implement both fiscal and monetary stimulus to support the economy, although it would take six-nine months to see economic data to significantly pick up. Credit supply has also been improving and regulatory concerns have started to ease.
 Asia ex-Japan Equities
The Fed has turned more hawkish with plans of speeding up the pace of interest rate hikes. The market is now expecting five to six rate hikes this year, with the first hike to be in March. Global yields have been shifting upwards rapidly as a result. In addition, the US dollar will likely remain strong in the near term. This macroeconomic backdrop does not bode well for Asia ex-Japan equities, especially those with high valuations.
On the other hand, sentiment in Southeast Asia has improved as markets have started to reopen and inflation is well under control.
Emerging Market ex-Asia Equities 
The Fed's tapering and rising Treasury yields do not bode well for emerging market equities. However, as OPEC has strong intentions to control the oil supply to maintain the oil price at the current level, oil prices remain elevated. Together with surging agricultural commodity prices, selective emerging markets remain supported.
Japanese Equities
Earnings upgrade continues as most companies who reported earnings have provided more upbeat guidance. Also, it is the only country that should benefit from imported inflationand BOJ has emphasized that there is "no chance" to reduce its monetary easing.
However, its recent surging Omicron cases will likely impact investor sentiment and the expectations of the pace of reopening.  Also, with the hawkish Fed, the Japanese yen will remain under pressure.
Asia Investment Grade Bonds
As the market is starting to price in the most hawkish scenario from the Fed, coupled with the US 10-year Treasury yield approaching 2%, duration risk is starting to stabilize.
However, credit spreads remain tight and may widen as the economy slows down and inflation concerns remain.
Asia High Yield Bonds
With the gradual easing kicking off in China and some regulatory relaxation in the property sector, investor sentiment has improved towards the higher quality Asia / China high yield bonds.
However, as global risk aversion remains elevated with equities correcting, sentiment remains weak in high yield bonds.
Emerging Market Debt
Central banks around the world are becoming more hawkish amid rising inflation. EM CDS demand is also rising given the global risk-off sentiment. Credit spreads may continue to widen.
Gold
The strong US dollar and rising Treasury yields do not bode well for Gold. However, tensions between Russia and Ukraine tension have added uncertainty to geopolitical risk.  In addition, some investors are turning back to gold to hedge against inflation.
Multi-asset
Multi-asset offers lower volatility compared to traditional single-asset or balanced portfolios. However, the correlation between risk-assets, such as equities, credits, and commodities, has increased dramatically recently. In an uncertain environment with low yields, income becomes an essential source of return for investors.

The views expressed are the views of Value Partners Hong Kong Limited only and are subject to change based on market and other conditions. The information provided does not constitute investment advice and it should not be relied on as such. All materials have been obtained from sources believed to be reliable as of the date of presentation, but their accuracy is not guaranteed. This material contains certain statements that may be deemed forward-looking statements. Please note that any such statements are not guarantees of any future performance and actual results or developments may differ materially from those projected.
Investors should note that investment involves risk. The price of units may go down as well as up and past performance is not indicative of future results. Investors should read the explanatory memorandum for details and risk factors in particular those associated with investment in emerging markets. Investors should seek advice from a financial adviser before making any investment. In the event that you choose not to do so, you should consider whether the investment selected is suitable for you.
This commentary has not been reviewed by the Securities and Futures Commission of Hong Kong. Issuer: Value Partners Hong Kong Limited.