China's health care sector: Is there still more room for growth?
28-05-2021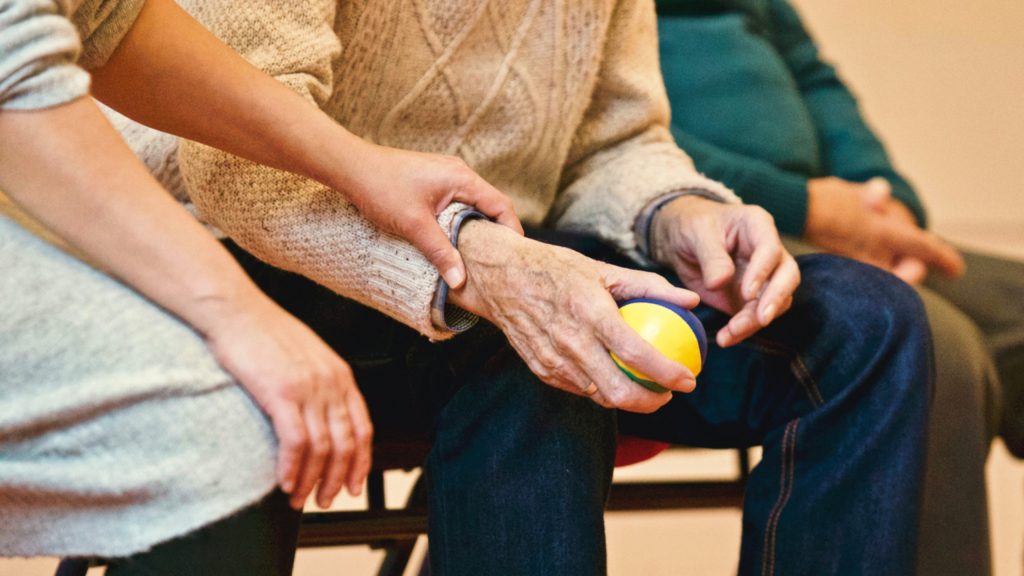 With the advent of Covid-19, the healthcare sector has become a spotlight for investors last year, as various healthcare-related companies accelerated the development of products and services to satisfy increasing demand from consumers, making the sector a beneficiary of the pandemic.
This is especially true in China, which is the second-largest healthcare market globally. The country's healthcare sector has provided massive returns to investors in the past years. On a three- and five-year annualized basis ending April 2021, the MSCI China All Shares Health Care 10/40 Index has returned 18.9% and 20.7%, which compares with the broader CSI 300 Total Return Index performance of 10.0% 13.9% in both periods1.
The country's healthcare market has also outperformed its global peers, with the MSCI World Health Care Index returning 14.6% and 11.7% during the same periods.
The outlook continues to be rosy for China's healthcare sector. Profits in in the sector are expected to grow 52.4% this year. The pharmaceuticals, biotechnology and life sciences sector is also expected to fare even better, with a growth projection of 81.7%2.
While the sector rally last year may have been driven by increased awareness caused by COVID-19, the upward trend of the sector began even before the onset of the pandemic. Healthcare expenditure grew on a compounded annual growth rate (CAGR) of 12.3% to Rmb 6.52 trillion in 2019 from 2015, and will grow more than double to hit Rmb 17.62 trillion by 2030 (Figure 1).
Figure 1: Growing total healthcare expenditure
Source: Frost & Sullivan, Goldman Sachs Research, as at November 2020, 2020-30 are estimates
However, given the sizable returns and the growth that the industry has seen in the past few years, is there still enough room for China's healthcare sector to grow in the next couple of years?
Increasing domestic demand
In China, spending on healthcare still lags developed markets, making up only 6.6% of total GDP compared to 17% in the US and under 12% in Japan and Germany3. While this calls for the need to ramp up investment in healthcare, it also implies the massive potential growth of the industry in the country.
China's ageing population is also rapidly rising. It is expected that people over 65 years old will reach 366 million by 2050 – exceeding the combined numbers of US, Japan and Europe4.
More and more consumers have also started to become aware of the need to acquire healthcare access. In the past five-six years, the number of outpatient visits alone has increased, while spending per outpatient has also been on the uptrend, indicating that more consumers are willing to pay for healthcare services (Figure 2).
Figure 2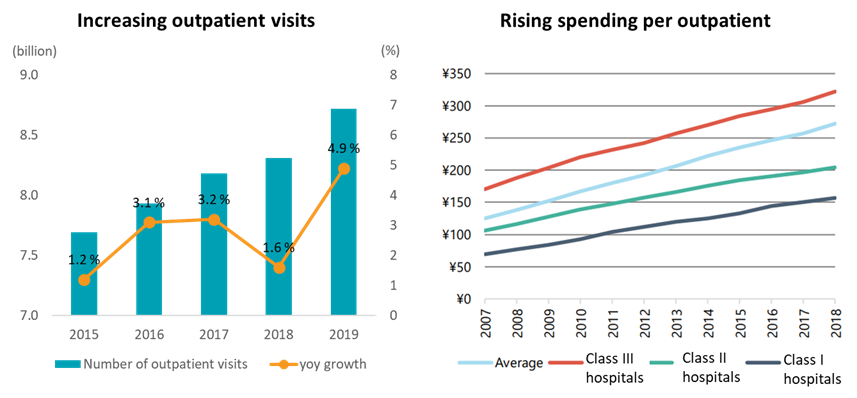 Source: National Health Commission of the People's Republic of China, as at June 2020; Wind, National Center for Biotechnology Information, Intensive Care Medicine, Critical Care Medicine, Jefferies, as at April 2020
This is not only true for basic healthcare needs, as specialty healthcare services are also on the rise. For example, refractive eye surgery, such as Lasik, may already be popular in other markets. But in China, it is booming. The market size of refractive surgery in the country is expected to increase to RMB 68 billion by 2030 from just RMB 25 billion last year5.
Government support
The country's government also plays a huge role in the development of China's healthcare industry, with several initiatives being launched in the past few years.
For example, in a move to improve the quality and advancement of the innovative drugs market, China's National Medical Products Administration (NMPA) rolled out a string of measures to facilitate approvals for drug registration. This included shorter timeframes for approval, acceptance of overseas clinical trial data and a fast-track approval process for novel high-quality drugs that promise clear clinical benefits6.
The potential for these innovative drugs is huge. The market share for such drugs is expected to reach 15% by 2025 from just 3% of total drug sales in 20197.
Meanwhile, in 2018, a centralized bulk procurement program, known as the Group Purchasing Organization (GPO), was launched to consolidate bargaining power, obtain the best prices for selected generic drugs and eliminate poor quality drug-makers. The result was proven effective as the average prices of generic drugs went down significantly. The initiative should pave the long-term development of China's healthcare sector, consolidating the industry to a fewer number of companies that are more competitive and have strong innovation capability.
China's National Healthcare Security Administration has also helped evolve the healthcare industry landscape8. In 2019, it rolled out an electronic medical insurance system, which promoted the adoption of telemedicine. The following year, the country's National Health Commission also called for provincial governments to establish their own online regulatory platforms to accelerate market access of internet-based hospitals.
Global competitiveness
Global players should also watch out for Chinese healthcare providers, as they are now becoming more competitive.
Research and development costs in China continue to be low, only 1/10 that of the top 10 U.S. pharmaceutical companies, which supports innovation for domestic pharmaceutical companies, paving the way for them to compete against global peers.
Figure 3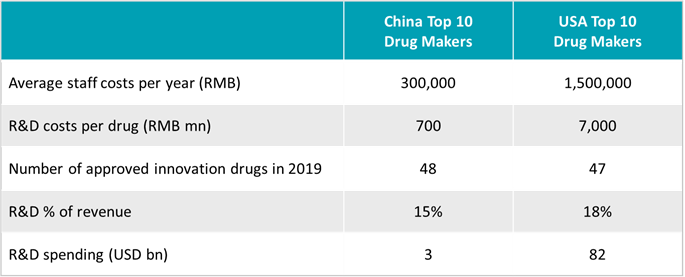 Source: VP channel check, as at January 2021
More China biotechnology companies are also now doing multi-country clinical trials, aiming to gain more global market share.
Medical device companies have also started to enter the overseas market. One of the leading domestic medical equipment manufacturer is seeing the export value of its PMS (Patient Monitoring Systems), IVD (In-Vitro Diagnostics) and medical imaging devices to North America and Europe to reach Rmb 14 billion in 2030 from just Rmb 4 billion last year9.
All these factors – domestic demand, government backing, and global competitiveness – contribute to the continued development of China's healthcare sector. This is why we are positive that the sector is not just a short-term investment trend, but should provide long-term investment opportunities in many years to come.
Source:
As at the end of April 2021
FactSet, Go-goal, Wind, CICC, as at 28 March 2021
Sources: Statistia, OECD, as at 31 December 2019
Population Pyramid, Statistics bureaux of respective countries as at 30 April 2021
Goldman Sachs Research, as at February 2021
Value Partners white paper: China Healthcare Innovation The Key To Value
IQAVIA, company data, Citi Research, as at August 2020
China Briefing – China's Healthcare Industry – Opportunities in Telemedicine and Digital Healthcare
Company data, Goldman Sachs Global Investment Research, Gao Hua Securities Research, as at February 2021

The views expressed are the views of Value Partners Hong Kong Limited only and are subject to change based on market and other conditions. The information provided does not constitute investment advice and it should not be relied on as such. All material has been obtained from sources believed to be reliable as of the date of presentation, but its accuracy is not guaranteed. This material contains certain statements that may be deemed forward-looking statements. Please note that any such statements are not guarantees of any future performance and actual results or developments may differ materially from those projected.
This article has not been reviewed by the Securities and Futures Commission in Hong Kong. Issuer: Value Partners Hong Kong Limited.