ESG powered by tech to create investment opportunities
20-01-2022
Increased interest and awareness in ESG, coupled with innovation and technology, have created new long-term secular trends and investment opportunities for managers to consider, according to Steffanie Yuen, Managing Director at Value Partners.
This is especially true in China, where the country has set carbon neutrality goals of reaching carbon emissions peak by 2030 and achieving net zero in 2060, she added. Given the huge amount of investment needed to reach these targets, companies exposed to the carbon neutrality theme should expect multi-year growth in their earnings.
"We believe in the next three to five years, this will bring huge growth potential for the entire value chain of sectors, including new energy vehicles, solar and wind energy," Yuen said.
Her comments were made during the 15th Asian Financial Forum (AFF), where she was invited to join a fireside chat session on integrating ESG factors with fintech. She joined Norman Chan, former HKMA Chief Executive and Chairman of RD Wallet Technologies and RD ezLink Limited, to discuss the challenges faced by the financial industry and the risks encountered in fund management when ESG metrics become key focus areas in discussions of a sustainable financial ecosystem, as well as the opportunities that have become available to technology start-ups in the new era of ESG investing and analysis.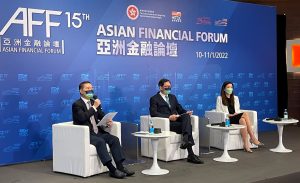 ESG factors do not negatively impact investment returns
Despite the increased interest in ESG, some investors still believe that ESG factors may hurt investment returns.
Ms. Yuen, however, does not share the same belief, adding that effective valuation of ESG factors can surely help mitigate risk.
She noted that at Value Partners, ESG is not a brand-new concept, as corporate governance has been one of the three major considerations deeply embedded in Value Partners' investment philosophy: to identify the companies with the 3Rs: the Right business run by the Right people and at the Right price. The company's emphasis on the Right people addresses the governance quality analysis, which it believes is crucial to act in the best interest of shareholders, and also a key driver for business' sustainability and value creation.
As markets evolve and more corporate disclosures have become available, ESG considerations have become an intrinsic part of the Group's investment process. The company believes that ESG factors will increasingly play a crucial role to differentiate risks from opportunities among our investees in the region.
The AFF is Asia's premier platform for thought leadership, innovation and networking for global leaders in government, finance and business, organized by The Government of the Hong Kong Special Administrative Region and Hong Kong Trade Development Council.
The flagship forum is one of the largest conferences in Hong Kong. As one of the key events to celebrate the 25th anniversary of the establishment of the Hong Kong Special Administrative Region, this year's forum was virtually held, with the theme of Navigating the Next Normal towards a Sustainable Future.
More than 66,000 viewers from 82 countries and regions had visited the AFF 2021 for thought leadership and business networking, as well as to learn more about the latest fintech innovations and next-generation business ideas.
The views and opinions expressed are the views of the conference speakers only and do not necessarily reflect the position of Value Partners and any organizations. Any content provided by the conference speakers are of their opinion and are not intended to malign any religion, ethnic group, club, organization, company, individual or anyone or anything. The information provided does not constitute investment advice and it should not be relied on as such. All material has been obtained from sources believed to be reliable as of the date of presentation, but its accuracy is not guaranteed. This material contains certain statements that may be deemed forward-looking statements. Please note that any such statements are not guarantees of any future performance and actual results or developments may differ materially from those projected.