Singapore's REITs to offer downside protection
11-08-2022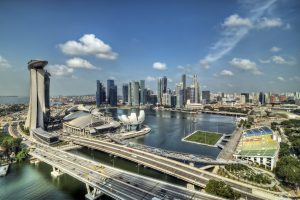 Singapore's real estate investment trusts (REITs) that focus on retail properties have performed well this year despite the volatile market environment.
For example, two retail-focused REITs with attractive dividend yields have performed well during the year. Year-to-date (ending 26 August 2022), the two REITs returned 2.7% and 3.8%1. The average yield of the two REITs is around 4%2.  Meanwhile, their five-year betas are only 0.38 and 0.693, respectively, indicating that they have fewer price swings relative to the broader market.
These REITs are supported by the recovery of the retail market following the city state's move to relax pandemic measures and reopen its borders. Singapore's retail sales grew at a double-digit rate for three consecutive months, with the latest figure hitting 14.8% YoY in June. Excluding motor vehicles, retail sales grew by 19.8% in the month4.
We believe these REITs should offer investors downside risk mitigation in the current volatile investment environment while benefitting from the recovery of Singapore retail sales. At present, we expect that volatility to continue amid various uncertainties as global central banks are making an all-out effort to curb inflation and recession concerns continue to linger. In light of the market volatility, we believe that investors should enhance the defensiveness of their portfolios while chasing potential returns.
Overall, Singapore's economy is looking good and is unlikely to slip into a technical recession, according to OCBC Bank. It said that the growth trends of the manufacturing and trading sectors continue to see strong momentum while consumption continues to rebound. The bank estimates Singapore's GDP to grow by 3.8% in 2022 and 3% in 2023. The forecast of retail sales in 2022 is also raised to 9 to 10% compare to the previous estimation 7 to 8%5.
Against this favorable backdrop, Singapore's stock market has performed well, becoming a safe haven for investors. Year-to-date, it has returned 3%1.
Source:
Bloomberg, 26 Aug 2022
Morningstar, 10 Aug 2022
SGX, 26 Aug 2022
Singapore Department of Statistics, 5 Aug 2022
OCBC Bank, 5 Aug 2022
Featured Fund:

The views expressed are the views of Value Partners Hong Kong Limited only and are subject to change based on market and other conditions. The information provided does not constitute investment advice and it should not be relied on as such. This material contains certain statements that may be deemed forward-looking statements. Please note that any such statements are not guarantees of any future performance and actual results or developments may differ materially from those projected. All material has been obtained from sources believed to be reliable, but its accuracy is not guaranteed. This commentary has not been reviewed by the Securities and Futures Commission. Issuer: Value Partners Hong Kong Limited.