Identify opportunities amid trade uncertainties and volatility
30-07-2019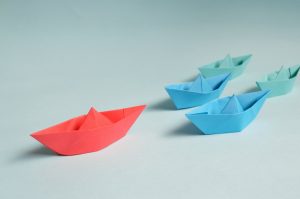 Despite current US-China trade frictions, our Equity Investment Director Chung Man Wing believes China A-shares and Hong Kong's stock market are still full of opportunities. Mr. Chung said industry shakeouts will happen in many sectors in China and the strongest companies will survive. Such companies will be able to seize more market share. Value Partners must perform in-depth research into respective industries in order to identify companies with growth potentials.
Mr. Chung then said he prefers companies with wide economic moats and right management people. Both characteristics can consistently bring value to shareholders.
Wide economic moats
As a value investor, Value Partners makes evaluations on a company based on its valuation, competitive advantages and how it creates value for shareholders.
Generally speaking, a company's competitive advantages, or economic moats, are mainly attributable to its cost advantages, economies of scale and monopolistic advantages. Wide and deep economic moats allow a company to keep or even expand its market share. Currently, many sectors in China are undergoing consolidations, which usually mean investment opportunities. If we can identify the sector front runners, it is a buying opportunity for us.
Research plays a key role for us to deal with policy risks among China equities. For instance, the centralized bulk procurement program once significantly hit the share performance of healthcare stocks, but we don't believe the policy will fundamentally hurt the whole sector. We took some analysis to see which Chinese healthcare companies could benefit from their economic moats in the long run. If the policy effect has been overstated or misinterpreted by the market, it is time to for us to increase our exposures in specific companies.
Right people
In the stock picking process, Value Partners often assesses a company through company visits and meetings with its management team.
We look at the management team's track record to see if the company has the "right people". We focus on a company's management and execution capability when the company or its industry is at low ebb. For example, changes in the interest rate, the borrowing cost and the foreign exchange rate will all have impacts on an export company's earnings prospect in the next one to two years. A company's management team can prove that they are responsible and capable if they have made preemptive estimates on the impacts.
Domestic consumption-related stocks
Sector-wise, Value Partners favors equities in domestic consumption-related sectors as they are relatively immune from trade and geopolitical uncertainties. In fact, domestic consumption stocks have been performing very well so far this year. However, Mr. Chung highlighted that Value Partners would not sell holdings in a company just because its share price reaches a target level. Instead, to Value Partners, it matters if this company can continue to create value for shareholders.
Internet stocks
Mr. Chung believes Internet stocks have not peaked yet. For example, recent slowdown in smartphone sales in China has caused concerns over the sector. But Mr. Chung believes the sector's growth can be supported by younger generations' increasing spending power.
Property stocks
Lastly, Mr. Chung estimates that the Hong Kong property market will remain stable since there is a lack of upside catalysts while the impact of rate cuts has already been priced in. Meanwhile, on mainland China's property market, Mr. Chung believes structural demand still exists in Tier-1 and Tier-2 cities.

Excerpts from the interview published by iMoney magazine on 22 July 2019.
The views expressed are the views of Value Partners Hong Kong Limited only and are subject to change based on market and other conditions. The information provided does not constitute investment advice and it should not be relied on as such. All material has been obtained from sources believed to be reliable as of the date of presentation, but its accuracy is not guaranteed. This material contains certain statements that may be deemed forward-looking statements. Please note that any such statements are not guarantees of any future performance and actual results or developments may differ materially from those projected.
This commentary has not been reviewed by the Securities and Futures Commission in Hong Kong. Issuer: Value Partners Hong Kong Limited.