2022 Market Outlook Report
17-12-2021

Crouching Tiger, Hidden Gems
2021 was a year of divergence and extremes. Equity market performances were largely diverged, with developed markets, especially the U.S. and Europe, significantly outperforming emerging markets. This is also true within emerging markets, where there was a huge divergence in performances among countries. There were also big swings and rotations between cyclical value and growth styles.
Global economies transited from a V-shape recovery with a steeper yield curve to mid-cycle expansion with a flatter yield curve. While long-end Treasury yields were moving within a range, investor focus had been shifting between higher breakeven inflation and lower real yields.
We expect 2022 will continue to be a volatile year for equities. The U.S. and Europe will likely struggle with persistently increasing inflation, while growth may start to moderate in the second quarter as the economies enter late-cycle expansion. We anticipate a more hawkish tone from central banks in the first half, as their playbook will change from transitory inflation to curbing inflation. Although it is expected that demand will shift from goods to services and the supply bottlenecks will start to ease, inflation may be more structural in wage growth, food prices, energy costs, and housing prices. That said, tighter monetary policies may be offset by a record amount of fiscal stimulus, such as the infrastructure bill in the U.S. Amid slower growth globally and inflationary pressures, we will be favoring high quality growth companies with strong cash flows and pricing power.
In Asia, although corporate earnings growth will further normalize at a gradual pace, we expect fewer bumps along the road in 2022. The Asia ex-Japan regional earnings (EPS) is expected to grow at 10.9% (Figure 1) amid growth moderation.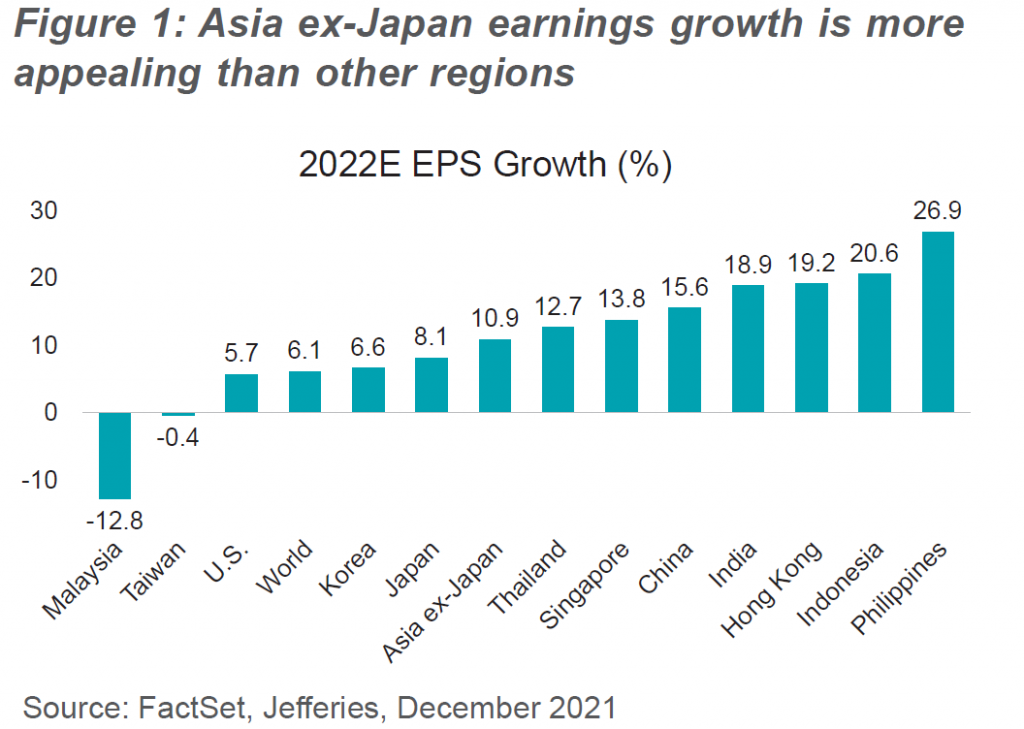 This investment outlook report covers our views across different asset classes and markets globally, as well as equity and fixed income themes that we favor. To learn more, please click below  to download the full report.
Featured fund:

The views expressed are the views of Value Partners Hong Kong Limited only and are subject to change based on market and other conditions. The information provided does not constitute investment advice and it should not be relied on as such. All materials have been obtained from sources believed to be reliable as of the date of presentation, but their accuracy is not guaranteed. This material contains certain statements that may be deemed forward-looking statements. Please note that any such statements are not guarantees of any future performance and actual results or developments may differ materially from those projected.
Investors should note that investment involves risk. The price of units may go down as well as up and past performance is not indicative of future results. Investors should read the explanatory memorandum for details and risk factors in particular those associated with investment in emerging markets. Investors should seek advice from a financial adviser before making any investment. In the event that you choose not to do so, you should consider whether the investment selected is suitable for you. This material has not been reviewed by the Securities and Futures Commission of Hong Kong. Issuer: Value Partners Hong Kong Limited.