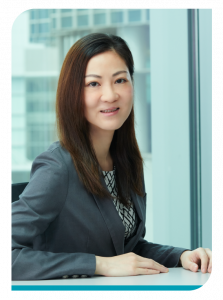 Kelly CHUNG
CFA
Investment Director, Head of Multi-Assets
Ms. Kelly CHUNG is Investment Director, Head of Multi-Assets of Value Partners. She has been playing a key role in investment allocation and the portfolio construction process of the Group's multi-asset portfolios, leading the development of the Group's asset allocation platform. She is also in charge of the Group's multi-asset strategy and execution.
Ms. CHUNG is a veteran investor with over 20 years of experience managing multi-asset portfolios. She joined Value Partners in April 2016 as Senior Fund Manager, and was promoted to Investment Director, Head of Multi-Assets in June 2022.
Prior to joining Value Partners, she was with LGT Bank (Hong Kong) as Managing Director, Head of Managed Solutions.  She also worked in SEI Investments as Senior Investment Analyst, Merrill Lynch Global Wealth Management as Vice President, and HSBC Asset Management as Investment Manager.  She started her career at J.P. Morgan Asset Management in New York as Strategic Investment Advisor.
Ms. CHUNG graduated from Kellogg School of Management, Northwestern University in the United States with an MBA degree and Stern, New York University with a Bachelor's degree in Finance and Actuarial Science. She is a CFA charterholder.