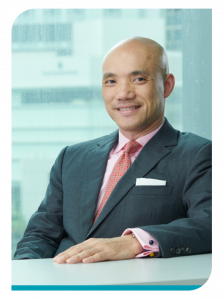 CHUNG Man Wing
Investment Director - Equities
Mr. CHUNG Man Wing is an Investment Director of Value Partners with nearly 30 years of experience in the investment management industry. He joined Value Partners in May 2017.
Prior to joining Value Partners, Mr. CHUNG was most recently a Portfolio Manager at Ellis Brady Management (Hong Kong), a manager of alternative investments. Before that, he co-founded JTM Capital Partners (Hong Kong) which ran a Greater China hedge fund. Earlier, he established a fund management firm – HindSight Investment Management (HK) – after he left JF Asset Management (Hong Kong) where he had worked for five years. Prior to joining JF Asset Management, he was with HSBC Asset Management (Hong Kong) for seven years and was promoted to the role of Chief Investment Officer (Far East ex Japan). He started his career at East Asia Hamon Asset Management (Hong Kong).
Mr. CHUNG graduated from the University of Hong Kong with an MBA degree and the University of Pennsylvania in the United States with a Bachelor's degree in Economics.