Latest China Market Outlook
01-09-2017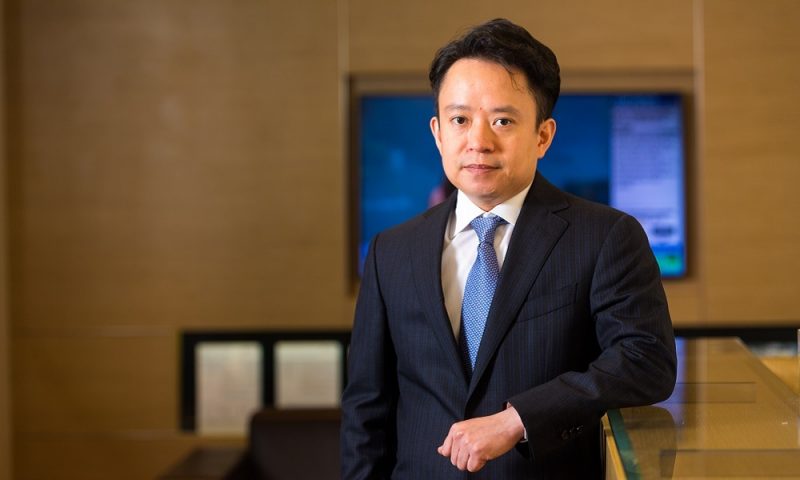 A Note from our Co-Chief Investments Officer Mr. Louis SO
China market: catalysts fuelling a sustained stockmarket
China's offshore stocks saw a strong rally in the first half of 2017, but can the uptrend be sustained in the medium to long term? Value Partners has identified three major catalysts in the China market – southbound capital, policy push and overseas investment – that suggest the bull run may continue for some time to come.
Three medium- to long-term catalysts in the China market
Southbound capital from China will likely provide continuous support for Hong Kong stocks. The prevailing foreign exchange controls make it difficult for residents of mainland China to diversify their investments overseas. As a result, mainland residents currently allocate only less than 1% of their total assets to overseas investments. However, with the US dollar peaking and the Renminbi returning to a growth trajectory, we expect the Chinese government to loosen capital controls – a favourable policy move for mainland residents looking to invest overseas.The Hong Kong stockmarket has always been favoured by mainland investors. Take the QDII (Qualified Domestic Institutional Investors) scheme as an example: around 60% of funds under QDII are invested in Hong Kong. If China's capital outflows continue, Hong Kong is likely to remain the biggest beneficiary of this capital flow. In the first half of 2017, an average RMB1.3 billion of southbound capital flowed into Hong Kong daily, while the volume of transactions originating from mainland China accounted for about 13% of the turnover on the Hong Kong stockmarket. Given the sustained southbound capital inflow, Chinese capital is poised to play a larger role in Hong Kong's stockmarket going forward.
The Chinese government may refocus attention on economic development after the 19th National Congress of the Communist Party of China (NCCPC). We expect officials to step up reform efforts – in particular urbanization – after the NCCPC. Currently, there are 30 million people in China without a Hukou, or household registration. Speedier Hukou reforms could help the floating population to settle down and give a boost to local economies.
China will be an increasingly important destination for foreign capital. At present, foreign investors are still wary of the Chinese market and overplay the risks of a hard landing by the Chinese economy, so foreign investment allocations to China remain subdued. This situation is expected to change as Chinese banks continue to trim non-performing loans and China's economy maintains healthy growth momentum. Also, China is an increasingly important emerging market that foreign investors can no longer shy away from. Foreign investors are likely to attach greater importance to the China market, which is favourable for China stocks in the long run.
China value stocks: the sweet spots
Although the Hong Kong stockmarket has already accumulated sizable gains so far this year, attractive investment opportunities can be still unearthed through our bottom-up research and company visits.
The MSCI China Index has already increased more than 30% year-to-date. Among the index categories, the MSCI China Growth Index edged up 57%, significantly outperforming the MSCI China Value Index, which gained 22% over the same period. In terms of valuations, the MSCI China Index is currently trading at 14.5 times price to earnings (P/E) , compared to 29.2 times for the MSCI China Growth Index and 8.9 times for the MSCI China Value Index. The valuation gap between growth and value indexes is the widest in over a decade.
China value and growth stocks 12-month forward PE comparison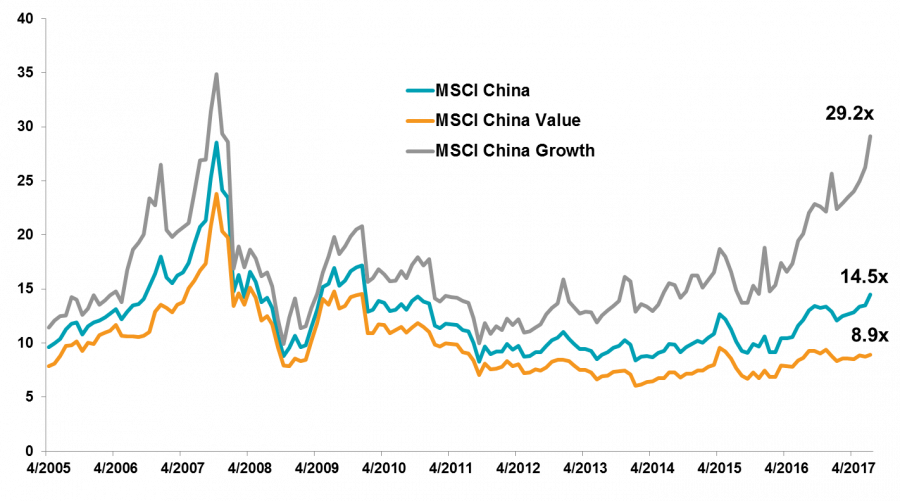 Source: Bloomberg as of 31 July 2017
As the valuations of growth stocks have risen to a relatively expensive level, a larger number of attractive investment opportunities are appearing in value stocks, including traditional industrial stocks with growth potential and dividend distributions The wide valuation gap between value and growth stocks also means there could be room for the former to outperform.
Small-caps to catch up with large-caps
The year-to-date performance of market-caps diverged: the MSCI China Large Cap Index and the MSCI China Mid Cap Index increased by 34% and 38%, respectively, while the Small Cap Index rose by a mere 11%. Following the significant underperformance by small caps, value opportunities have become more concentrated in small-cap names (with a market cap of USD 1 billion or below).
China value and growth stocks 12-month forward PE comparison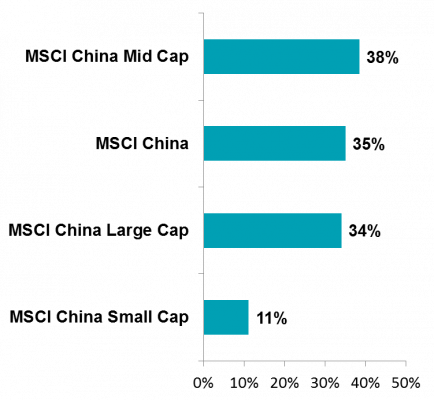 Source: MSCI, Bloomberg, price return in USD term as of 16 August 2017
In the first half of 2017, the outperformance of large-cap stocks was mainly supported by capital flows. During the period, funds flowing into Hong Kong mainly came from insurance companies that preferred large-cap financial stocks and high-growth companies. Meanwhile, capital from Europe and the United States was mainly accounted for by ETFs (exchange-traded funds). Since ETFs are constrained by investment mandates, they can only invest in index constituents, so naturally large-cap stocks were favoured and small-caps were neglected by the market. However, as Alpha is becoming increasingly rare in the large-cap space, we expect capital to re-enter small-cap stocks.
The views expressed are the views of Value Partners Limited only and are subject to change based on market and other conditions. The information provided does not constitute investment advice and it should not be relied on as such. All material has been obtained from sources believed to be reliable, but its accuracy is not guaranteed. This material contains certain statements that may be deemed forward-looking statements. Please note that any such statements are not guarantees of any future performance and actual results or developments may differ materially from those projected.
Investors should note that investment involves risk. This commentary has not been reviewed by the Securities and Futures Commission. Issuer: Value Partners Limited.