H shares trading at compelling level
27-01-2016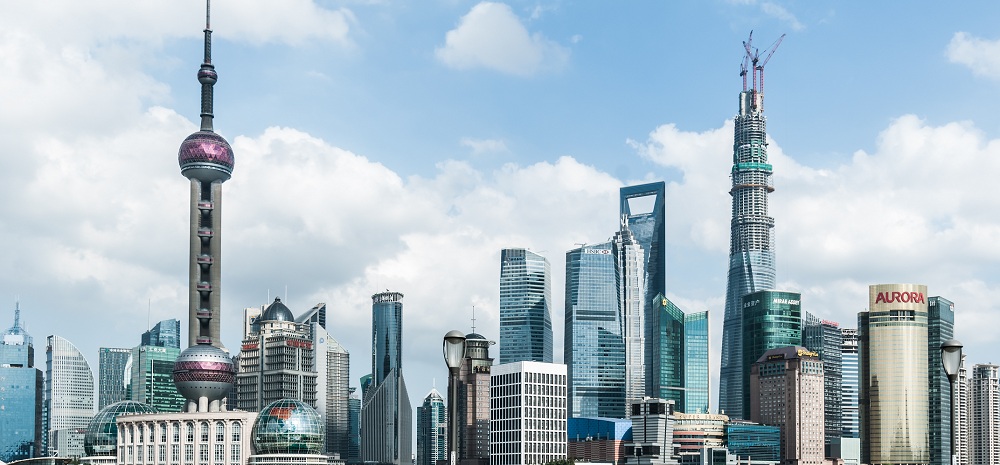 The Chinese stockmarket went through a bumpy ride in 2015 and started the new year with a selling frenzy.  The stockmarket suspensions in the first trading week sparked a new wave of global market panics and negative news flow.
Experienced China investors are no stranger to such extreme volatilities.  In the past 25 years of the A-share market history, there were more than 25 market crashes with a decline of more than 20%.  Wild market swings are distinct in the domestic Chinese stockmarket because, as of 2014, 85% of the A-share market turnover was dominated by retail investors who tend to invest based on their hopes, greed and fears.
The current panic selling shows fears over a hard landing in China, as well as doubts that the country has to depreciate the renminbi to boost growth.  We think the extreme pessimism is overdone.
It is true that China's economy has weakened substantially and we continue to see fatigues in the "old economy" sectors – China's National Bureau of Statistics' manufacturing PMI remained in contractionary territory for the fifth-straight month in December, pointing to slowing industrial activities in China.  However, there are increasing signs that activities may have started to stabilize, e.g. housing prices are steadying and retail sales are strengthening. Besides, new economic indicators including movie box office, the number of airline passengers, auto sales and 4G mobile subscriptions  all  pointed to an expanding "new economy" in China last year, and the contribution of real tertiary output to China's economic growth has increased to close to 60% in the first nine months of 2015.  As the government pushes ahead with the necessary reforms, the "old economy" sectors will continue to drag on China's growth, and this is perhaps the price we pay for a more sustainable economy in the long term.
China's central bank is now managing the renminbi against a basket of trade-weighted currencies rather than the dollar alone.  We believe the recent adjustment of the renminbi is more about the dollar strength than the renminbi weakness.  China needs relative currency stability to avoid financial panic and maintain confidence in its policy, and it is not in its interest to substantially devalue the trade-weighted exchange rate, although the renminbi may become increasingly decoupled against the USD.
We believe stimulus spending will continue to support the Chinese economy – monetary policy is expected to stay accommodative in 2016 and the central government is anticipated to step up fiscal effort to stabilize the economy.  While the room for further rate cuts comes down, most monetary easing in 2016 may come from cuts in the reserve requirement ratio.  It will be a policy priority to maintain the momentum of government spending, and the unofficial fiscal deficit can also increase given restrictions on bond issues by local government financing vehicles have been lifted and official local government bond issues are rising.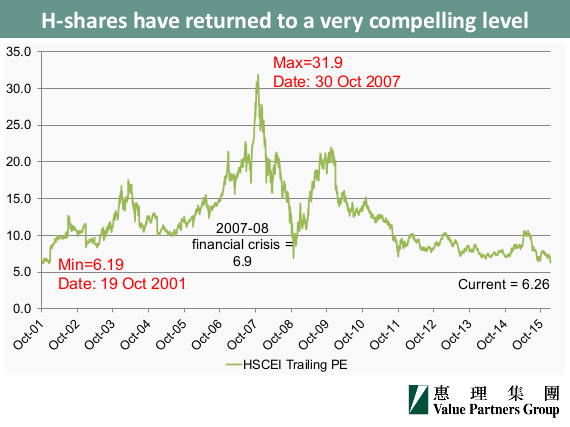 Valuations of Chinese stocks in offshore markets, e.g. H-shares in Hong Kong, have returned to a very compelling level.  It is worthy to note that these stocks listed in an international free market dominated by institutional and professional investors are at a 40% discount to the policy-driven A-share market.  In 2015, H-shares (as represented by the Hang Seng China Enterprises Index) slumped 16.8%, dragging its valuation to the same level as the trough during the 2008 Global Financial Crisis.  After the recent corrections, we believe prices have already reflected the negative repercussions of the reforms, and the fragilities in the Chinese economy are largely factored in.  As a value investor, this is the time for us to actively look for opportunities.
The views expressed are the views of Value Partners Limited only and are subject to change based on market and other conditions. The information provided does not constitute investment advice and it should not be relied on as such. All material has been obtained from sources believed to be reliable, but its accuracy is not guaranteed. This material contains certain statements that may be deemed forward-looking statements. Please note that any such statements are not guarantees of any future performance and actual results or developments may differ materially from those projected.
Investors should note that investment involves risk. This commentary has not been reviewed by the Securities and Futures Commission. Issuer: Value Partners Limited.