Fixed Income Insights: Q1 2020 Market Review
24-04-2020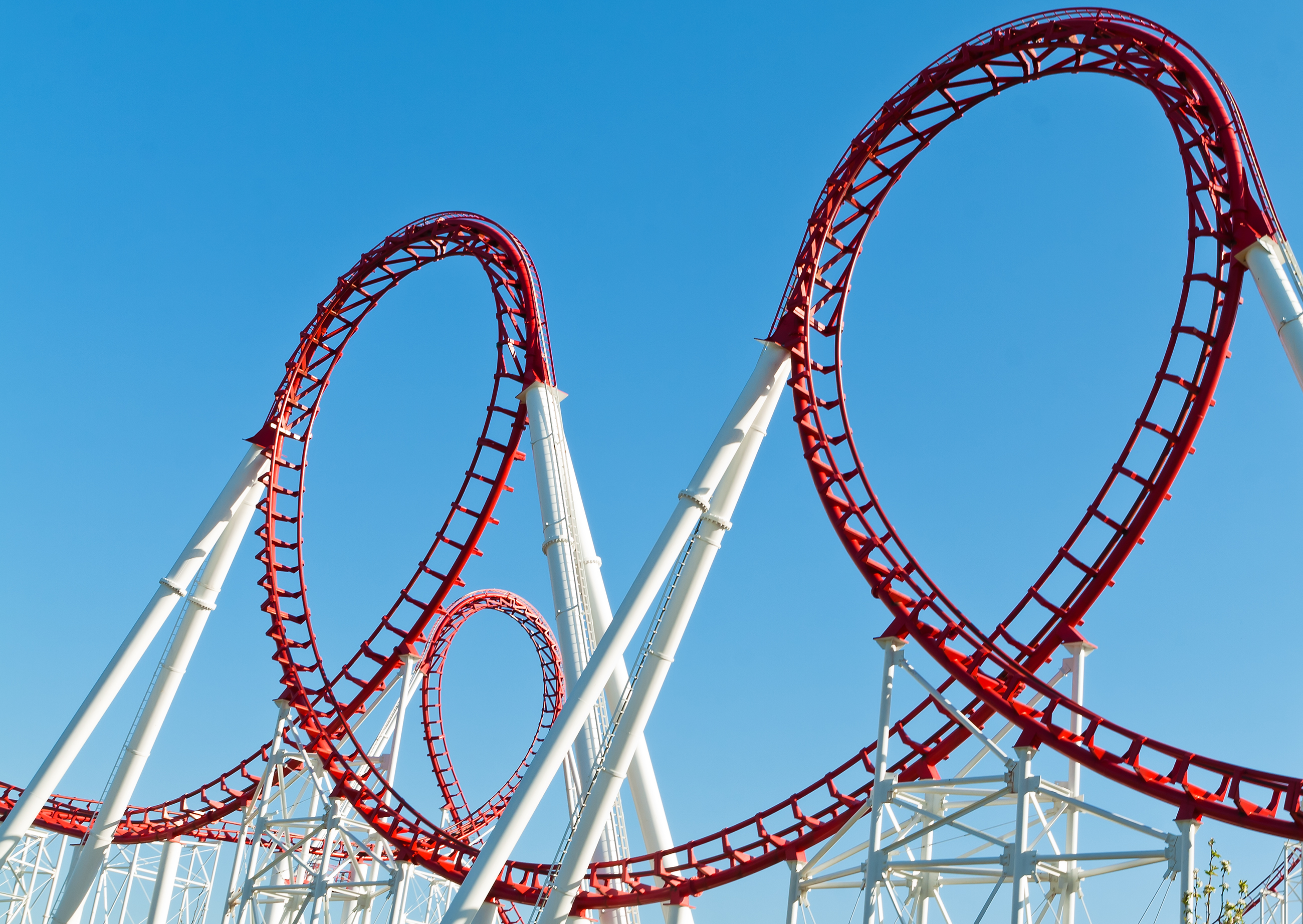 Experiencing an eventful start, we entered 2020 with the favorable momentum from the Phase 1 trade deal between the U.S. and China. As the COVID-19 spread turned global, the market has since ridden on a roller coaster.
Fears unleash
The U.S. Federal Reserve announced an emergency rate cut of 50bps. The rare intermeeting move, dated 3 March, caught the market by surprise. The U.S. Treasury futures fully priced in a rate cut on the scheduled FOMC meeting in mid-March, but not in an emergency manner as it happened, which caused much panic and confusion. Just right at the time when the market was still trying to measure the potential impact of the virus and the effectiveness of the rate cut, Saudi Arabia sent the market its surprise decision to raise oil output significantly. Across Asia's credit market, sellers/buyers ratio was as extreme as 9:1 around mid-March.
The ratio though improved on the back of the promises from the U.S. Federal Reserve to expand the money market facilities. Several unprecedented steps by governmental bodies globally are the core to support the markets.
The challenging quarter saw the U.S. equities resetting its worst decline from 1987. The ten-year U.S. Treasury yield fell to a historic intra-day low of 0.32%. CBOE Volatility Index (VIX), known as the Fear Index, hit 82%, surpassing levels during any catastrophic events in the past 30 years (e.g., '97 Asian Financial Crisis, '98 LTCM, '00-02 Internet Bubble, '08 Global Financial Crisis and '10-'12 Euro/Greece Debt Crisis). Crude oil trades below US$20/bbl and is still plummeting.
We believe the reasons behind the March market rout were the massive deleveraging activities taking place globally, rather than a deterioration of credit fundamentals. While the U.S. and Europe have yet to tame the viral outbreak, uncertain economic and pandemic outlook, more sluggish demand and the oil prices crush were the triggers. Global deleveraging resulted in a cut in lending ratio and a decline in asset prices, requiring many investors to fulfill their margin calls and resulting in forced selling. More decline in asset prices resulted in more unwinding of leveraged positions.
Ahead China property in focus
Property sales in 2020 saw a lackluster quarter as the virus began spreading around the period leading up to the Chinese New Year. With over 60 provinces or cities in China closing physical sales offices during the holiday and for the most of February, business activities were expected to be at a record low with high-frequency data showing very minimal sales across the top 30 cities (Figure 1).
However, the contracted sales announced by 34 listed names we tracked reported a decline of 34% YoY in February, which is helped by aggressive sales campaign, the gradual reopening of sales centers and some sales brought forward from previous months. It then followed by another upbeat in March with reported sales only down 10% YoY or up 135% MoM – showing continuous recovery as more than 95% of sales office/ construction resumed by the end of March.
For 2020, we still expect national sales to remain largely stable with mid-size developers continue to outperform. Major listed developers we are tracking have set reasonable growth target of c.10% YoY, with a few targeting to bring a 20-30% growth (Figure 2).
Figure 1: Primary Sales in 30 key cities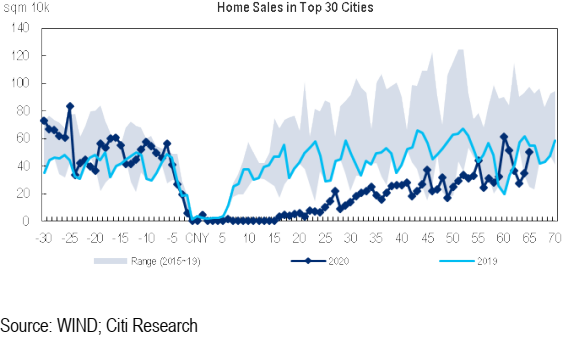 Source: Citi Research
Figure 2. Listed developers' 2020E sales target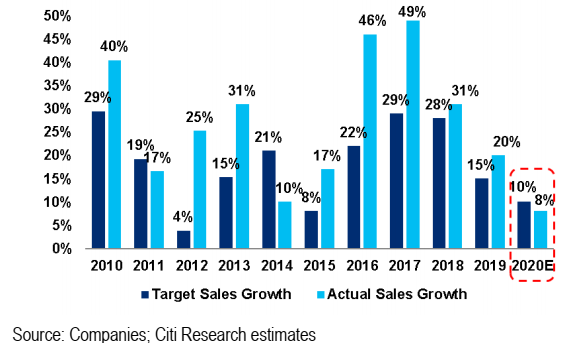 Source: Citi Research
In terms of policy, we have seen a wide range of local supply-side support, which includes relacing pre-sales approvals and allowing higher leverage for the land market. We expect to see more demand-side stimulus ahead, such as adjusting payment requirements and issuing cash subsidy on home purchases. A certain level of stimulus should protect a downside in volume as purchasing power is mostly under pressure. Amid the massive global monetary easing, we see good signs of liquidity loosening in March across the onshore bond space.
The views expressed are the views of Value Partners Hong Kong Limited only and are subject to change based on market and other conditions. The information provided does not constitute investment advice and it should not be relied on as such. All material has been obtained from sources believed to be reliable as of the date of presentation, but its accuracy is not guaranteed. This material contains certain statements that may be deemed forward-looking statements. Please note that any such statements are not guarantees of any future performance and actual results or developments may differ materially from those projected.
This commentary has not been reviewed by the Securities and Futures Commission in Hong Kong. Issuer: Value Partners Hong Kong Limited.
For Singapore investors: This commentary has not been reviewed by Monetary Authority of Singapore. Value Partners Asset Management Singapore Pte Ltd, Singapore Company Registration No. 200808225G.